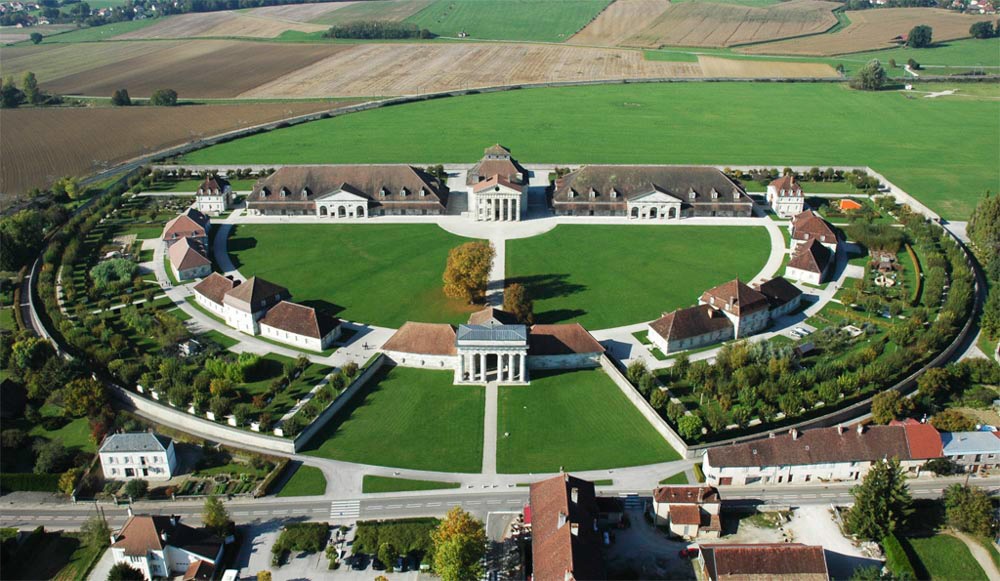 The Saline Royale (Royal Saltworks) is a historical building at Arc-et-Senans in the department of Doubs, Eastern France.
It is next to the Forest of Chaux and about 35 kilometres from Besançon. The architect was Claude-Nicolas Ledoux (1736–1806), a prominent Parisian architect of the time. The work is an important example of an early Enlightenment project in which the architect based his design on a philosophy that favored arranging buildings according to a rational geometry and a hierarchical relation between the parts of the project.
The Institut Claude-Nicolas Ledoux has taken on the task of conservator and is managing the site as a monument. UNESCO addedthe "Salines Royales" to its List of World Heritage Sites in 1982.
Today, the site is mostly open to the public. It includes, in the building the coopers used, displays by the Ledoux Museumof other futuristic projects that were never built. Also, the salt production buildings house temporary exhibitions.
The train line from Besançon to Bourg-en-Bresse passes just next to the salt works. The station for Arc-et-Senans is only a few dozen metres from the site. Although not strictly in Burgundy, the Saline Royale is 84 kilometres from Dijon.
See : Destination Dijon to book tour
Grande rue
25610 Arc et Senans
0033 (0) 3 81 54 45 45
visites@salineroyale.com
www.salineroyale.com