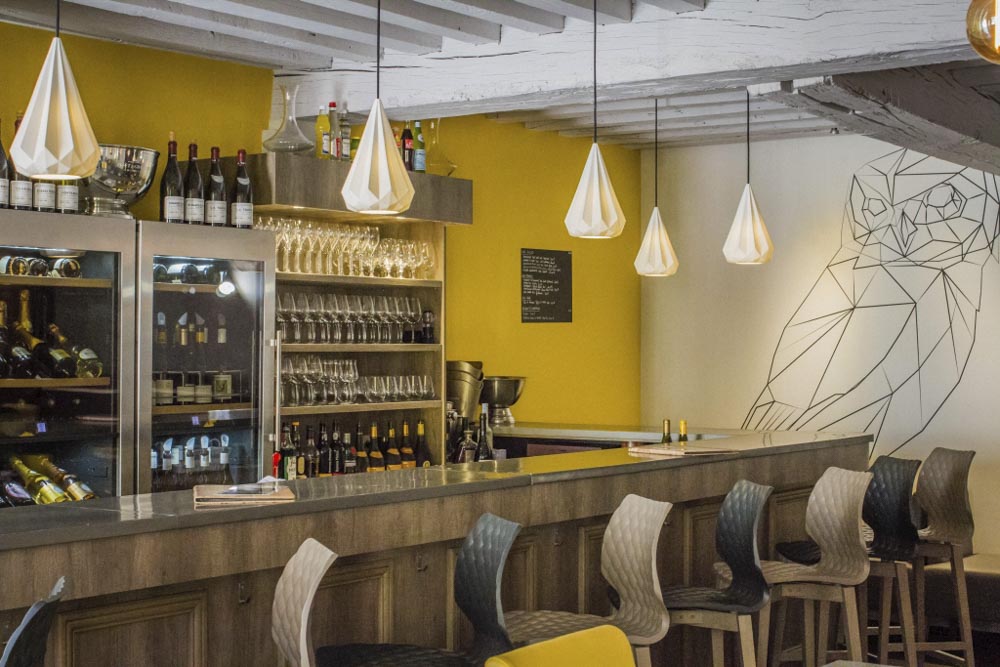 A new wine place with the spirit of the recognition for the listing of Dijon and the Climats of the Bourgogne winegrowing region on the UNESCO world heritage list,
La Pharmacy opened in July 2017 in the heart of medieval Dijon.
The wine bar and boutique occupy the ground floor of a 16th century half-timbered building on rue de la Chouette, behind Notre Dame and opposite the Millière house and Vogüe hotel.
With colours inspired by the immediate surrounding area, the interior decoration pays homage to the emblematic sites of this pedestrian district.
The wine bar offers a daily selection of the best crus, served by the glass as listed on the slate or by the bottle for a gathering among friends.To accompany your tasting experience, sausage and/or cheese plates from local suppliers are available.
If you'd like to enjoy the experience inside or on the terrace as a family, we also serve non-alcoholic beverages as well as coffee and tea.
The Boutique, which specialises in excellence, offers 500 Burgundy crus and 18 champagne labels.
The availability of old vintages allows you to combine the pleasure of tasting with the celebration of a particular year.
Our bottles are preserved in a temperature and humidity-controlled cellar and may, thus, be served upon purchase.
See : Destination Dijon to book tour
9 rue de la Chouette
21000 Dijon
0033 (0) 3 80 48 26 11
contact@pharnacy.vin
www.pharmacy.vin