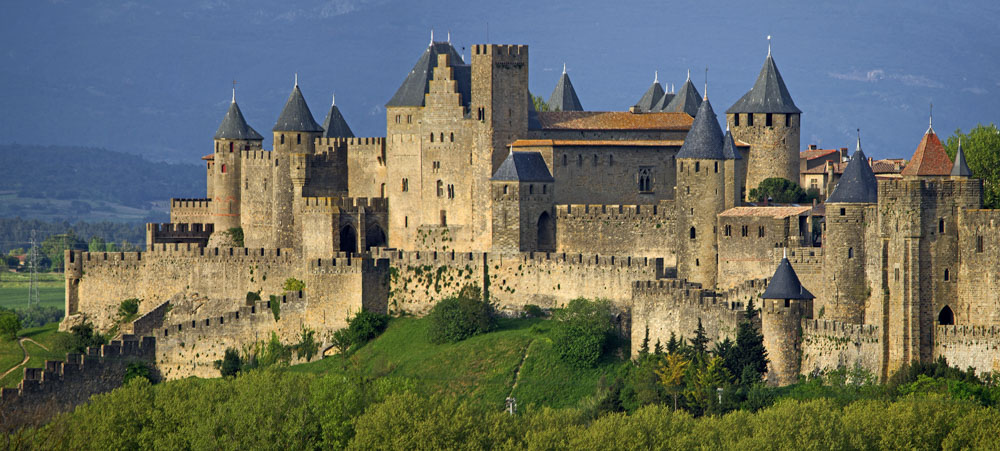 The Aude is probably best known for the fortified city of Carcassonne – reminiscent of a medieval water colour seen from the autoroute. Occupied in the 16th Century BC, Carcassonne was firstly a fortified Roman town and then a second line of ramparts built by royal edict enlarged the Chateau providing a belt around it. Restored in the 19th Century, Simon de Montfort is buried here and the Cathedral of Saint-Nazaire and Saint Celse blends a Romanesque nave with a Gothic choir. Within the walls are hotels and about 50 restaurants. It is vast and has been meticulously restored.
Towns in the Aude
The Cathars
The area is rich in historic buildings. Ancient Abbeys abound at Lagrasse, Fontfroid and St Hilaire to name but a few. This is Cathar country and the many feudal castles, many in ruins, bear testament to the struggles that have raged throughout the region. North is the fortified village of Saissac in the Montagnes Noire with its ruined Chateau and museum in the remaining tower. Castelnaudary to the west is best known for the regional dish of Cassoulet, a bean stew containing sausage, fowl or meat. Another distinctive feature of the area is the Canal du Midi, bordered by shady plane trees, which wends its way towards the coast.
Corbières and Minervois
There are a wealth of productive vineyards in both the Corbières and Minervois and a wine museum exists at Lézignan Corbières. The town of Limoux gives its name to a very pleasant sparkling wine, Blanquette de Limoux, and has a weekly market, in common with nearby Mirepoix, with its arcaded market square. On the Mediterranean coast, Narbonne has a Roman site, unusual in being subterranean, first discovered in the 1930s and only opened in 1976. The old town has a gothic cathedral soaring above the buildings with an impressive stained glass window. The Cathédrale Saint Just et Saint Pasteur and the Archduke's Palace are exceptional architecturally, dating from the 13–14th Centuries.
Geography
Despite the modern marina, Port Gruissan had its origins in medieval times and the tower is all that remains of the Chateau. Here, too, are lagoons where pink flamingos are to be found. Resorts along the coastline are well planned and plentiful although they are not remarkable for their charm. To the north are the Montagnes Noires and to the south,  the Pyrenees. To the west is the city of Toulouse and to the east, the Mediterranean. With the arrival of flights to Carcassonne by Ryanair – small wonder that this department has gained such popularity in recent years.
| Title | Address | Description |
| --- | --- | --- |
| | Aude, France | |