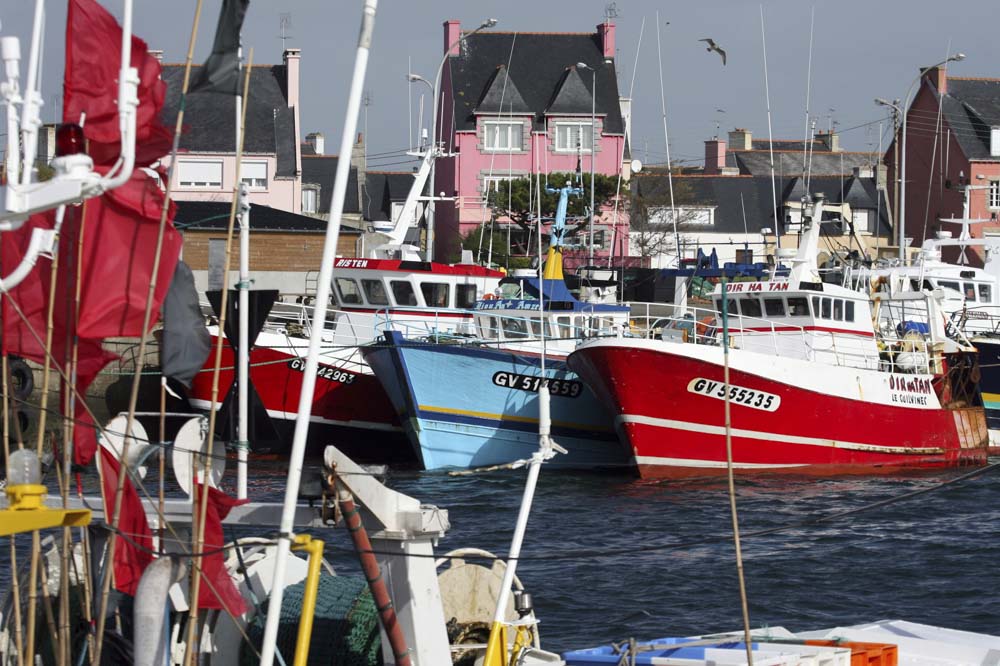 Port Guilvinec, the biggest in the Pont-l'Abbe region.         Copyright Atout France/Louis Frederic Dunal
The most westerly peninsular of France, Brittany's varied coastline is washed by the Gulf Stream and incorporates the coast of 'Granite Rose', the rugged coastline of Finistère. To the south, the long sandy beaches of La Baule, amongst others, have great appeal as well as those to the north round St Malo and opposite Mont-St-Michel. Long beloved by the British, Brittany with its narrow lanes and granite and slate cottages is reminiscent of the west of England in many ways. Whilst there are archeological traces of mankind in Brittany which date back to 700,000 BC, little is known about the Neolithic period which made it the centre of megalithic civilisation. However, there is still tangible evidence of this period in the wealth of megalithic structures around Carnac.
Indeed, it is a Celtic land from the immigration of British Celts who, driven out of Britain in 460, converted the area to Christianity and renamed the peninsular 'little Britain'. Much at the mercy of the elements, the coastline has many fishing ports, rocky inlets and islands which are home to many species of birds. To the north is the port of St Malo, destination for the mainland ferries from the U.K. and nearby the resort of Dinard, especially fashionable in days gone by. Quimper in Finistère is renowned for its attractive Breton pottery and the port of Concarneau is the third most productive fishing port in France. Fortified in the 13th Century, it has for many years attracted the interest of artists. The City of Rennes is the capital of the region.
The region is steeped in age-old traditions and religious practices, most notably that of the 'Pardon' – a mass involving much celebration and banner-carrying sometimes performed before the sailors went to sea. On these occasions and feast days, the national costume is still much in evidence with the womens' varied striking lace 'coiffe' or hat. In Pont-Aven these are accompanied by an impressive starched collar whilst the Bigouden head-dresses are very tall. The men wear felt hats with ribbons and embroidered waistcoats. There are, besides the nine splendid cathedrals and numerous Gothic and Norman churches, many little hidden chapels, crucifixes and statues marking this deep religious heritage. Amongst the various local culinary treats are delicious, thin Breton pancakes. A 'crêpe' is sweet made with wheat flour and a 'galette' made with buckwheat is savoury. Salt meadow lamb is plentiful due to grazing on the long coastline and lamb from the bay of Mont-Saint-Michel and Belle-île and Ouessant is particularly popular. Sublime fresh seafood and local cider are plentiful as well. Copyright Sarah Francis.
Departments in Brittany :-
Weather in Brittany