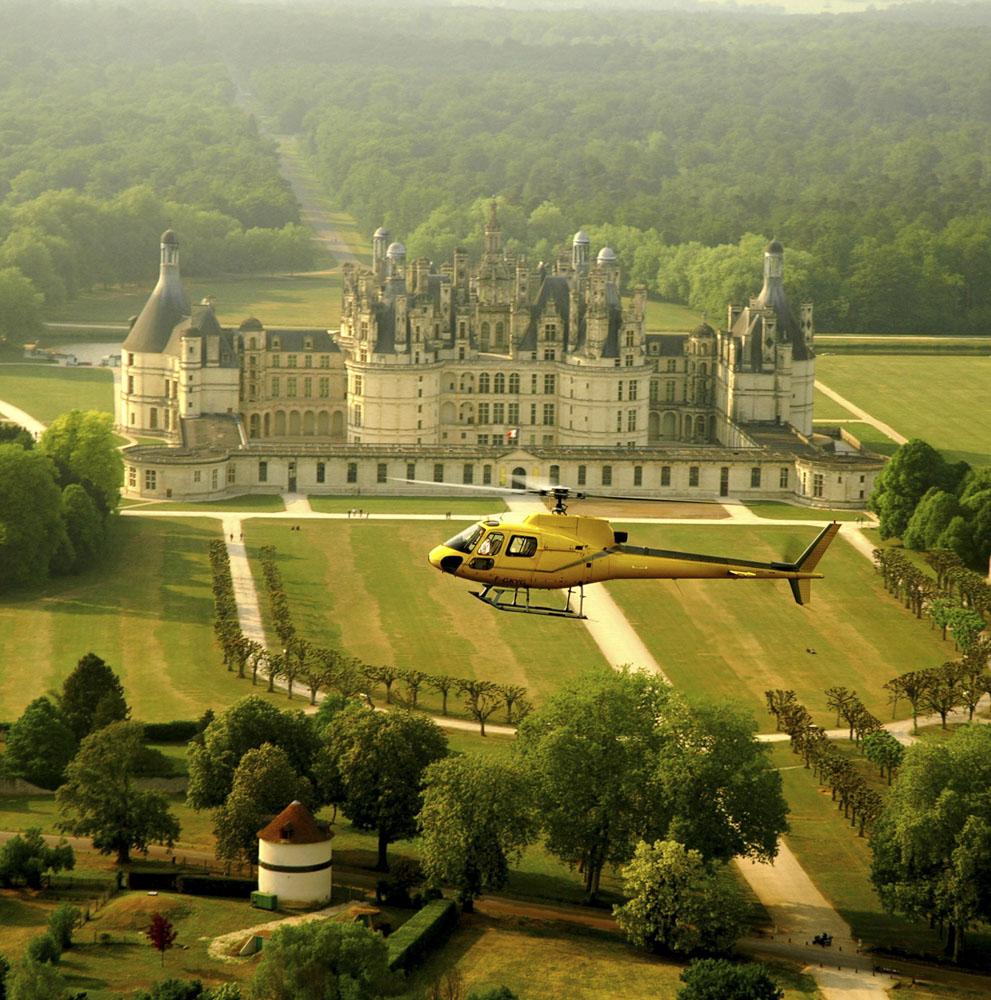 Image – A helicopter flight over the 16th century Chateau de Chambord, Copyright Atout France/Leonard de Serres.
The most significant feature of the region is the Loire Valley which conjures up the images of the famous Châteaux of the Loire created by the kings of France over many centuries and famous to this day for their splendour and beauty. Amongst the most famed are Chenonceau, Chambord, Amboise, Azay-le Rideau, Villandry and Blois. There are many other less famous Chateaux including that of Ussé which is said to have been the inspiration for the castle of the Sleeping Beauty. The importance of the Loire is partly attributed to the 100 years war when the English and Burgundians expelled the royal family from Paris and the Loire became their natural refuge.
The Cathedrals of Bourges and Chartres both feature on the Unesco World Heritage list, the latter particularly recognised for the beauty of its stained glass and especially the vast rose window. With so many sites of importance, it is no surprise to learn that the region has many special events. There are over 30 annual festivals in the region including the famous rock festival 'Printemps de Bourges'. Easily accessible with Paris only 55 minutes by TGV to Tours, the area is much in demand by tourists as much for the valley of the Loire as for those of its tributaries, the Indre, Cher, Beuvron, Sauldre and Allier.
The River Loire, besides being the setting of so many splendid buildings is also important for its rich agricultural soil and the many renowned vineyards of the area. There are no less than 22 AOC wines produced in this region including the famous Sancerre, Vouvray, and Chinon to mention just a few. Many famous people are associated with the Val de Loire, amongst them the great French heroine, Jeanne d'Arc and Leonardo da Vinci, who is buried at Azay-le-Rideau. He is said to have been responsible for the staircase at Château Chambord and at the age of 64, his mentor Giuliano de Medici having died, he decided that his future lay with the patronage of Francois I, King of France. He travelled to Amboise by donkey with all his most precious possessions, including the canvas we now know as the Mona Lisa. Tradition has it that Da Vinci died in the King's arms on the 2nd May 1519 at the Manoir de Cloux. Copyright: Sarah Francis
Departments in Centre Val de Loire :-
Book a Hotel in the Loire Valley
Weather in the Centre Loire Valley