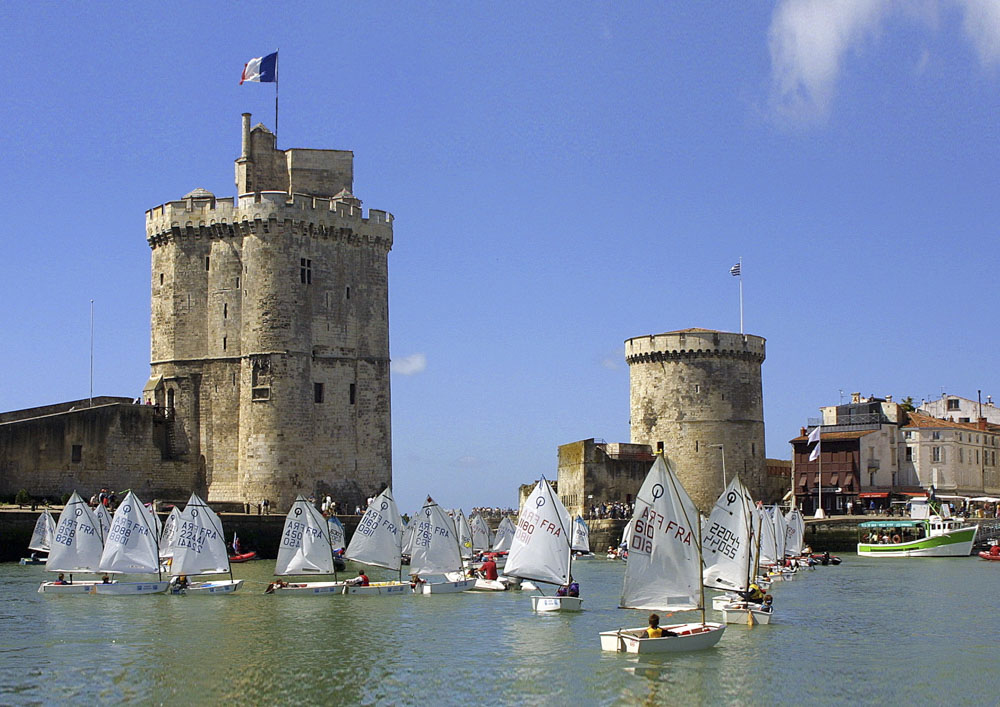 The port of La Rochelle is famous for its links with maritime activities manifested by many buildings including town houses built for ship owners, ranging from the Middle ages to the 18th Century, the imposing towers at the entrance to the old dock, and the great clock surmounting the gateway between harbour and town. It has the largest yachting marina on the Atlantic coast, the 'Port des Minimes' and also a modern Aquarium open all the year round. There are no less than nine museums (including a Maritime Museum, a wax work museum and a fascinating museum featuring over 1,000 perfume bottles). You can visit the old Law Courts, the 18th Century Stock Exchange and even the Old Lighthouse as well as the Cathedral of Saint-Louis and Eglise Saint-Sauvur.
Towns in the Charente Maritime
Book a Hotel in Charente Maritime
Ile De Ré
A short toll bridge journey takes you to the idyllic Ile De Ré, with its whitewashed cottages, painted shutters and flower lined streets, a cyclist's dream with 60 km of tracks. Popular for its climate and long sandy beaches, attractions include the salt marsh museum, a bird sanctuary, an old harbour, the lighthouse and fish traps of Sainte-Marie. A 3 km toll free bridge links the Île d'Oleron to the mainland, spanning the oyster parks of the famous 'Marennes-Oléron'. A museum in Fort Louvois celebrates oyster and mussel farming. The landscape features long sandy beaches with a backdrop of sand dunes and vast forests. At Saint-Pierre d'Oléron there is a golf course whilst at Sainte-Gemme, the 'village of birds', has an ornithological reserve.
Rochefort
Rochefort, built in the 17th Century as a military base, remains remarkably unchanged. The coastline is protected by over nine forts built to protect this estuary, including one at Brouage, once a harbour specialising in the salt and wine trades and fortified by Cardinal Richelieu, though nowadays it is more than 3 kms inland. Further evidence of the regions rich historical links is the Island of Aix whence Napoleon embarked when exiled to Saint Helena.
Royan
To the south lies Royan and an array of seaside resorts bordering the Gironde estuary. It was here that sea bathing became fashionable in the 19th Century. The town, badly damaged in the war, now blends the 19th century with the modern and is dominated by the Church dedicated to Notre-Dame in 1955. The beaches are over 2kms in length. At La Palmyre-Les Mathes, an international zoo extends to over 14 hectares. Finally, inland on the banks of the River Charente, the town of Saintes, once the main town of Aquitaine, still retains many vestiges of the Roman occupation, the Middle Ages and the 18th Century. The Charente Maritime is rich in cultural, gastronomic and leisure activities.
| Title | Address | Description |
| --- | --- | --- |
| | Charente-Maritime, France | |