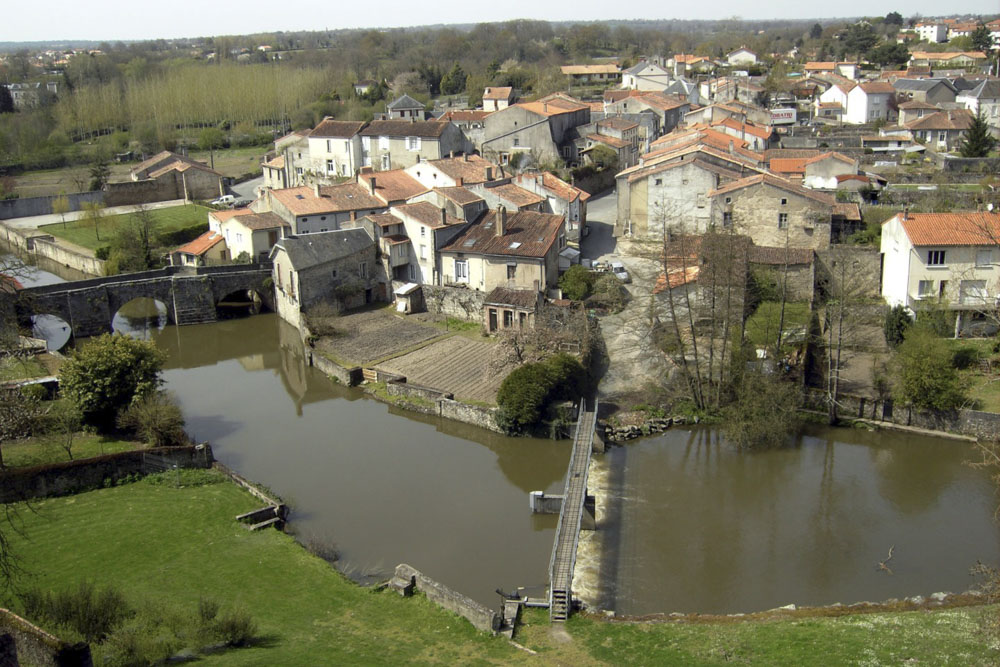 The Deux Sevres to the North West of the Poitou Charentes is a peaceful rural department especially famous for the "Marais Poitevin', known as the 'Green Venice ' which mirrors the Norfolk Broads in character but without the inclement weather factor! Life has moved at a sedate pace for centuries in this peaceful backwater and in the 17/18th centuries, a certain amount of guidance from the Dutch sorted out the question of drainage. This tranquil area of shaded canals where you can either hire a boat or be taken on a guided tour, whether by boat or canoe, has become a national park.
Towns in the Deux Sevres
Niort
The town of Niort, on the banks of the Sèvre Niortaise River lies a mere 6 km from the Marais. An impressive 'Donjon' or keep dating from the 12th Century is now one of the two main museums in the town. There is also a 17th Century gate and a covered market dating from the 19th Century as well as the usual selection of Romanesque churches. On a more modern note, the town is well served with restaurants and there is also a golf course.
Celles sur Belle
Celles sur Belle is built around an abbey dating from the 12th Century. There is a minster with a gothic bell tower and a beautiful 17th century Abbey with lovely gardens surrounding it. The 'Maison des Marionnettes' or collection of puppets is at Lusseray. In common with the rest of the region, the Deux Sevres has its share of Romanesque churches as it, too, featured on the route taken by the pilgrims to Santiago de Compostela. One such example is the town of Melle, dating from this period, with three churches from this era. The town is also the site of the oldest silver mines in Europe which are open to the public. At Villiers-en-Bois a 25 hectare wildlife park is home to over 600 hundred European animals.
Thouars
On the borders of the department, Thouars is dominated by the castle built for the Dukes of Trémoille in the 17th Century set on a rocky outcrop surrounded by the River Thouet of which it has a panoramic view from its renaissance gallery. There is an imposing gateway and tower, timbered houses and renaissance mansions in the older part of the town and two Romanesque churches, as well as a museum. The mediaeval town of Parthenay, also on the banks of the Thouet, is full of objects of architectural, artistic and historical interest with two Romanesque churches and a museum of archaeological artefacts. Once a week there is a cattle market, said to be one of the largest in France.
| Title | Address | Description |
| --- | --- | --- |
| | Deux-Sèvres, France | |