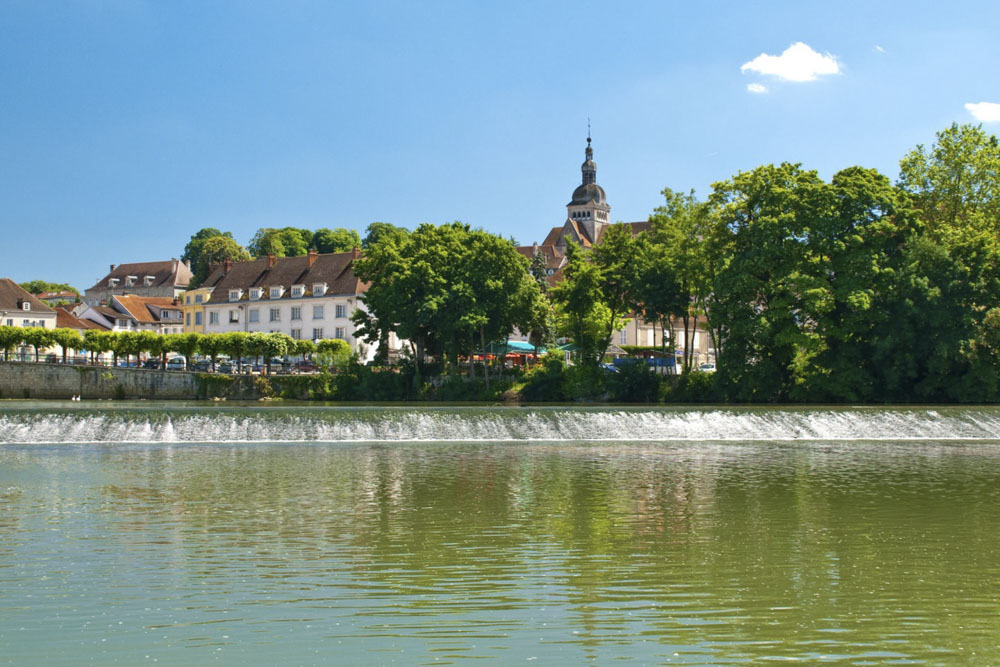 Haute-Saône lies at the foot of the Jura mountains, and includes part of the nature reserve park of the Ballons des Vosges, where you can follow a 60 km landscaped trail. Here, too, are the many lakes of the Plateau des Mille Etangs (literally a Thousand Ponds) which are popular for game-fishing and the restful waters of the Saône river, best enjoyed on a gentle riverboat cruise. You can hike in the Monts de Gy, go canoeing on the Ognon river, and enjoy many watersport activities at the lakes of Malsaucy, Forges and Brognard. Those with a truly leisurely frame of mind should consider discovering nature in a horse-drawn caravan at Fontenois-la-Ville and Dampierre-sur-Salon.
Towns in the Haute Saone
Vesoul
There are any number of intriguing towns and villages to visit. Vesoul, the main town of the departement, in the valley of the Durgeon, with its bird sanctuary, the cherry museum in Fougerolles, the forge museum in Etueffont, and the glass-making factory of La Rochère. The spa town of Luxeuil-les-Bains, has many fine sandstone houses and monuments, the ancient abbey of St Columban, with its 13th and 15th century cloisters and restored basilica, the beautiful red stone thermes in a shady park, and a fascinating lace museum.
Ronchamp
An unmissable sight at Ronchamp, high on a hill and visible for miles, is the chapel of Notre-Dame du Haut, designed by architect Le Corbusier, a stunning creation of curved concrete which is more like a sculpture than a building, with an interior which uses light and form to create a truly sacred space. At Ronchamp there is also a mining museum, devoted to the story of the local industry and the lives of the miners.
Wines
There are many local delicacies to savour, the ham of Luxeuil, which is hung to dry for 8 months after being macerated in red wine and smoked with fir wood, the crayfish and pike perch of the Saone river made into a delicious a fish stew, called pochouse, snails from Marnay, cancoillotte and Munster cheeses, the wines of Champlitte, Charcenne and Roche-et-Raucourt, and eau-de-vie from Fougerolles.
| Title | Address | Description |
| --- | --- | --- |
| | Haute-Saône, France | |