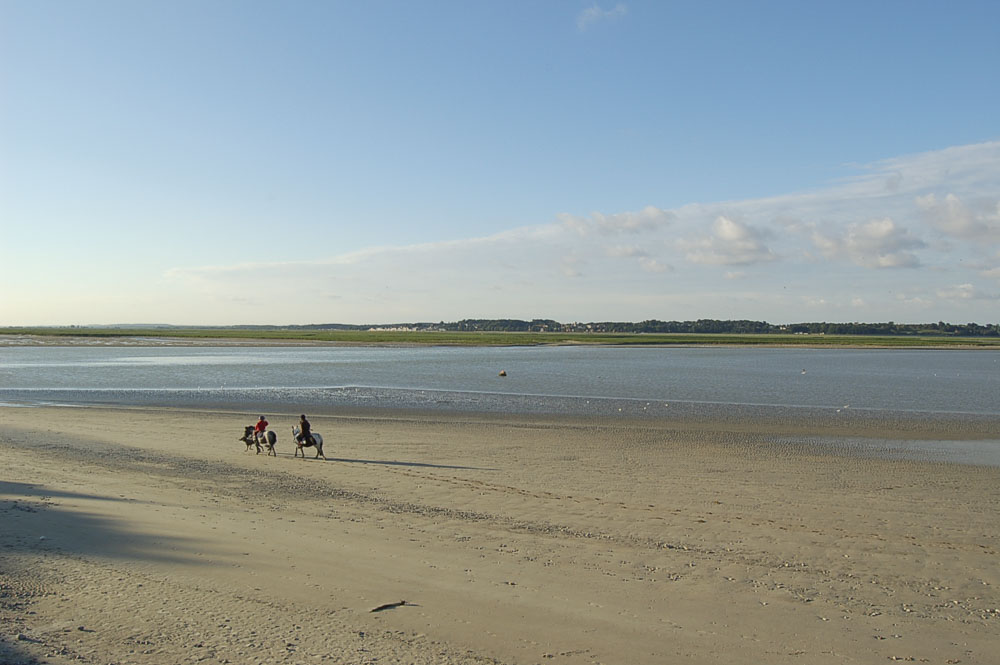 View across the of Bay of the Somme – Copyright Informationfrance.
The Hauts de France Region now encorporates the previous Regions of the Nord/Pas de Calais and Picardy.
Rather unfairly, the Nord Pas de Calais has become known as the haunt of day tripping shoppers who head in their droves from England to take advantage of the fantastic wines and food on offer and to enjoy a delicious feast of French gastronomy. If the weather permits, a day at the seaside or sight seeing is also a priority. In fact, the area has much to offer beyond these rather transitory pleasures and is perfect for a weekend break, as there is much to absorb and time passes quickly!
From the coastal resorts of the Côte d'Opale, Wimereux with its parade of enticing shops, hotels, seafood restaurants and sea front to the perennially chic Le Touquet with its airport, casino, golf course and boutiques and the bustling market town of Boulogne with its pretty old town and cobbled streets, to the inland splendour of Lille and the many enchanting villages, river valleys and peaceful countryside, there is much to see and many places to visit.
Flanders forever immortalised in the poetry of World War I is also famous for the excellent beer which is brewed there and which features in many of the delicious local specialities including Carbonnade Flamande (beef stewed in beer) readily available in the plentiful, good local restaurants. With the history of the Great Wars omnipresent, there are many sites including the monument to the Canadian soldiers at Vimy Ridge and the beaches of Dunkerque, famous for the extraordinary evacuation of so many by so few small boats in the summer of 1940. There really is something for everyone in this versatile and readily accessible region.
The Somme, Aisne and Oise, further south within the Hauts de France are eminently accessible whether from Paris or the shores of England and has for a long time been deservedly popular for weekend breaks. Within an hour's drive of the port of Calais and the Channel Tunnel and an easy train ride from Paris, is the vast sandy Bay of the Somme where sand yachters race across the beaches and families enjoy the vast spaces, superb micro climate and wonderful fresh seafood. The Domaine de Marquenterre is a nature reserve, home to many species of wild birds. There are many sites of historical interest including the spot at St Valery Sur Somme from which William the Conqueror set forth to conquer England. Forever immortalised in the words of the popular wartime song "Roses are blooming in Picardy", the Northern part of the Somme still bears testament to the huge conflict that raged over its now peaceful fields with the cemeteries, battlefields and monuments which pepper the countryside.
In terms of architectural interest, the region has six of the finest cathedrals in France including Amiens, Beauvais, Laon, Soissons, Senlis and St Quentin with no less than ten fortified castles and at least twenty one châteaux as well as a plethora of abbeys and churches whether Cistercian, Romanesque or Gothic. In the department of the Oise , one can observe the splendour of the moated Château de Chantilly complete with the famous Living Horse Museum and racecourse. Compiègne, a classical town with beautiful stone buildings, boasts the magnificent 18th Century Palace once frequented by Louis 14th but most celebrated in the day of the Empress Eugénie and Napoleon 3rd. An unexpected bonus is the Opera House, scene of many fabulous productions, a miniature jewel intended as a copy of the opera house at Versailles. Nearby in the Compiegne forest is the site of the signing of the Armistice in 1918.
On the gastronomic front, the choice in Picardy is as extensive as anywhere in France and includes the famous 'ficelle picarde', a savoury pancake, "tarte au maroilles" a cheese tart featuring the local cheese, Maroilles, lamb from the salt marshes, the delectable 'crevettes grises' (fresh shrimps) and seafood generally, especially in the restaurants of the coastal towns and villages and, last but not least, the famous Crème de Chantilly. Activities include walking, cycling, pony trekking, carriage rides, fishing and hunting, sand yachting, sailing and golf. Inland there are pretty river valleys and vast forests including those of Crecy and Compiegne. Whether your interest is culture, sport or the cornucopia of delights to be sampled, the Hauts de France is still relatively unknown and delightfully unspoilt. Copyright: Sarah Francis
Departments in the Hauts-de-France :-
Weather in Hauts-de-France