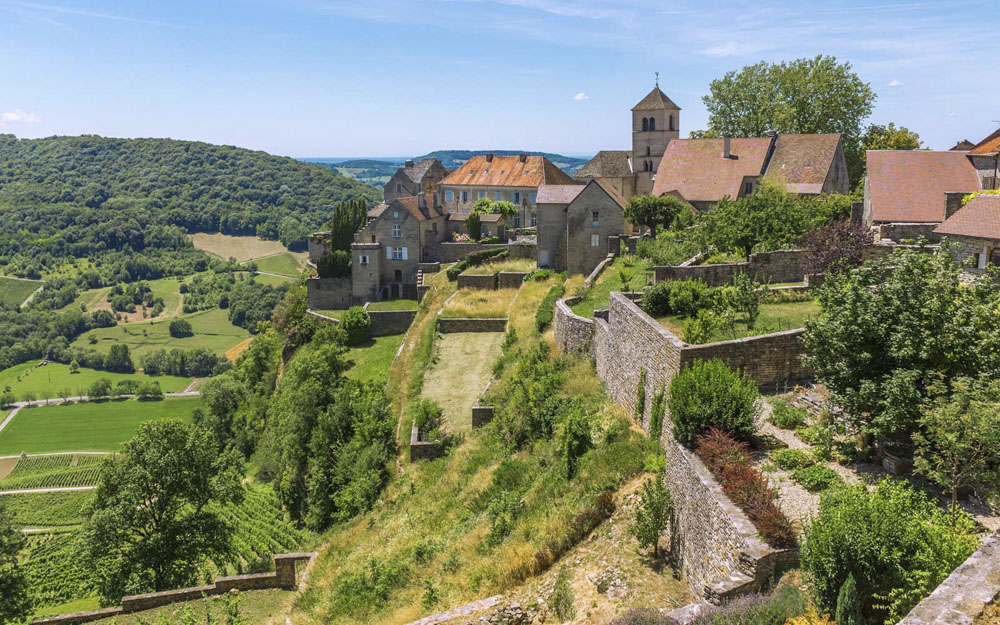 Jura is an exceptionally beautiful region of mountains and high plateaux descending to huge forests and vineyards on the lower slopes. The geological term Jurassic is taken from the great arc of limestone which forms the mountain range of the Jura which is partly in Switzerland. It is typical limestone country with dramatic gorges, caves and chasms carved out of the rock. Water rises everywhere resulting in plentiful springs, torrential rivers, cascading waterfalls and still, tranquil lakes. This is a place to savour natural beauty with eye-stretching mountain views to explore slowly on foot, by bike, on horseback or walking with a donkey to carry the load. Lakes and rivers offer the chance of canoeing, fishing or leisurely riverboat trips. Best of all you can see it all from the air – ballooning, gliding, parachuting are all available.
Towns in the Jura
The Lakes
There is an abundance of lakes – Antre, Etival, Bonlieu, Chambly, Chanon, Clairvaux and Narlay, all with signposted walks around them. Some are perfect for fishing, others for watersports, and a lake trail is a great way to see the area. See the dam at Vouglans and the lakeside village of thatched wooden houses on stilts, a reconstituted Neolithic lake-dwellers' settlement at Chalain. There are awe-inspiring waterfalls along the valley of the river Herisson (Hedgehog river) in particular the 65 metre Cascade de l'Eventail and the Cascade du Grand Saut. The Reculées are short steep valleys ending in a natural amphitheatre, with often breath-taking scenery, such as the Cirque de Baume, with its incredible caves and waterfalls. The Foret de Chaux is one of the largest in France, 22,000 hectares of coniferous and deciduous trees which burst into glorious golden foliage in the autumn. It is a natural haven for wildlife and wild flowers – themed walks are organised by the local tourist office. Starting from Champagnole is the route des Sapins, a beautiful forest drive which takes in some truly spectacular trees, including the Sapins de la Glacière, in the quietest, coldest part of the forest.
Wine
The Jura is renowned for its wine – it produces 6 appellation controlée wines of very distinct character. Each has its particular method – for Vin de Paille, bunches of grapes are left to dry for several weeks to increase sugar content and matured for 3 years in casks, the resulting sweet nectar is sold in small bottles. Vin Jaune is aged at least 6 years in little barrels which are not filled completely and thus it acquires its characteristic yellow taste. A major event of the year, the first weekend of February, is the Percée du Vin Jaune, when the new vintage is tasted. Both these sweet wines are delicious with the superb cheeses and smoked meat for which the area is famous. A great way to sample the wines is to follow the wine trail, an 80 km route taking in Salins-les-Bains, Arbois, Poligny, Chateau-Chalon, Voiteur, L'Etoile, Lons-le-Saunier and Beaufort. As well as the sweet wines there are Jura reds, whites, crémant (sparkling wine) and a local aperitif called Macvin.
Arbois
Arbois is the key town of the wine region and has a Vine and Wine museum at Chateau Pecauld. The winegrowers of Arbois like to celebrate their product with an annual procession, the " biou" when hundreds of bunches of grapes are paraded through streets of town to the church. Arbois is also famous as the birthplace of Louis Pasteur and his house and laboratory can be visited. Dole, the former capital of Franche-Comté, also has a Pasteur connection – he was born here and kept the house as a retreat. There is a museum devoted to his early childhood, with a reconstruction of his father's tannery workshop and a scientific exhibition. Dole has a charming old quarter of medieval buildings and winding streets including a 16th century church with a beautifully carved portal. Another intriguing site is Salins-les-Bains where you can see the underground works and pumps which bring the water to the surface.
| Title | Address | Description |
| --- | --- | --- |
| | Jura, France | |