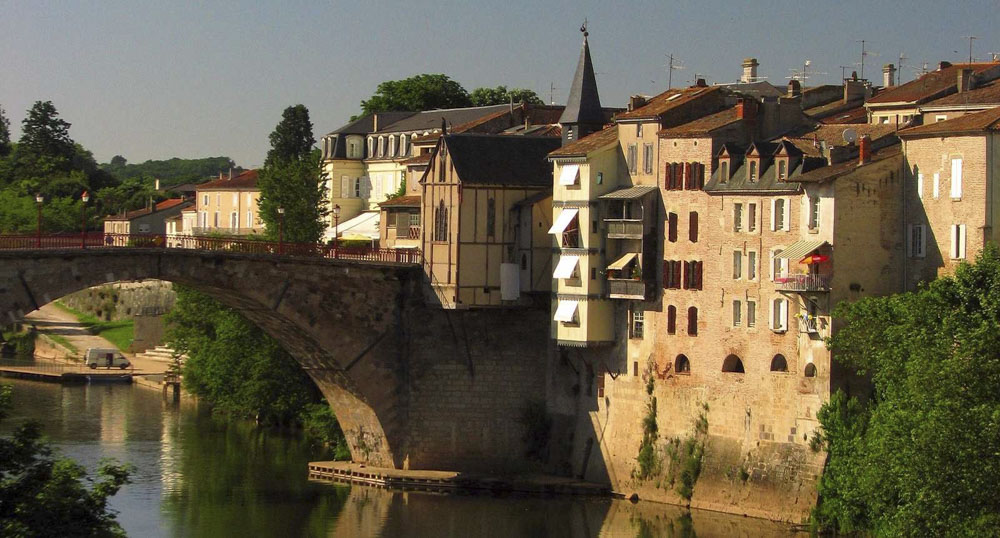 The Lot et Garonne has an aura of wealth, being very fertile and one of the main fruit producing areas of France, known as the largest orchard in France. It is particularly famous for the Pruneaux d'Agen whose production dates back to the 15th Century and is the subject of a museum in Granges-Sur-Lot. The department is also rich in wines, Duras and Buzet to name just two and in Armagnac to the south of the department. There are plentiful fresh fruit and vegetables and naturally  the foie gras and duck that is so omnipresent in the South West of France.
Towns in the Lot-et-Garonne
Agen
The department has the benefits of a considerable length of navigable water, both on rivers and canals as well as many other water related sports including fishing on the Lot, the Garonne, the Canal du Midi and numerous lakes. Hunting is also high on the agenda amongst the local community as you might expect of a farming area. There is a plethora of places of architectural interest in this area which is rich in history and has many museums and at least fourteen imposing Châteaux. The origins of Agen, capital of the department, date from as early as 400 BC.
History
Agen also has a small airport and TGV link to Paris, Toulouse and Bordeaux. On the banks of the River Garonne with the canal alongside it, the town is largely modern with busy streets but there remain some fine medieval houses and the Romanesque church of St Caprais. Eleanor of Aquitaine, Richard Coeur de Lion and Simon de Montfort were amongst those who controlled Agen. The Fine Arts Museum holds many treasures from the Gallo Roman period through to more recent history and is famous for its Goyas.
Villeneuve sur Lot
Villeneuve sur Lot, once a 13th century Bastide, has a central square in which the market is held and the Porte de Paris surmounted by a clock tower, once known as the Porte de Montflanquin. There is an imposing 19th Century theatre, and a Chapel by the bridge which owes its origins to a sailor diving into the river to establish why their boat wouldn't move and finding a statue of the Virgin. To this day the passing boatmen salute the Chapel as they pass. Other Bastides include Castillonès, Montflanquin, Puymirol, Tournon d'Agenais, Vianne and Villeréal. There are over 535 windmills and watermills in the department, most of which have sails or wheels which no longer work. A project is underway to restore them all gradually as there is fierce national pride in the heritage of the area.
| Title | Address | Description |
| --- | --- | --- |
| | Lot-et-Garonne, France | |