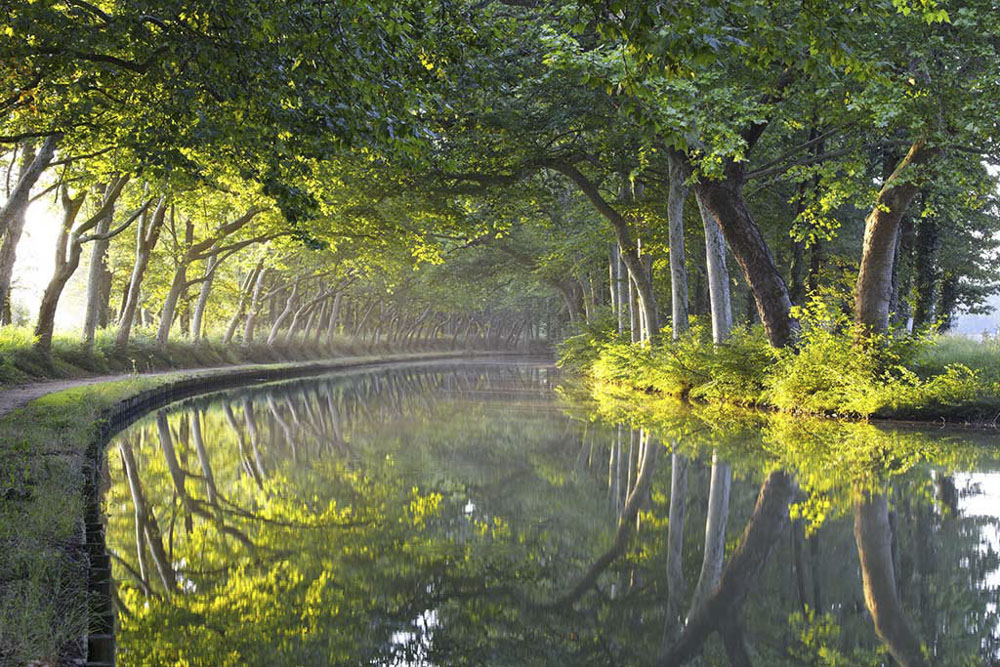 The Canal du Midi in the Aude
The Occitainie Region now encorporates the previous Regions of the Languedoc Rouissillon and the Midi Pyrenees Regions.
The Occitainie has mild winters and long hot summers and 200 miles of sandy coastline, fanned by the winds of the Mistral and Tramontane, a paradise for sailors and windsurfers alike. With over 20 golf courses, 6,300 kilometres of trails and skiing in the Massif Central and Eastern Pyrenees, the region is rich in history and culture and encompasses five departments. The pretty port of Collioure in the Pyrenees Orientales was painted by Matisse and Picasso, as was the inland cherry town of Ceret, known as the "Vatican of cubism." At Sète, Nimes and Ceret, museums bear testament to their work. The proximity of the ski stations makes weekend skiing a local pastime.
Famous for its fortified capital, Carcassonne, reminiscent of a medieval water colour which has come to life, the Aude is also renowned for the vineyards of Minervois and Corbières as well as the sparkling Blanquette de Limoux. Many ruined castles remind one that this is Cathar country. With Ryanair's flights to Carcassonne and Perpignan, small wonder the region is much sought after. The Canal du Midi, lined by plane trees, wends its langorous way to the sea. On the coast is the big fishing port of Sète and purpose built resorts like Cap d'Agde in the Herault with the Bassin de Thau, famous for its oyster beds. The university city of Montpellier has the oldest botanical garden in France. Numerous pretty villages and towns extend inland from the plateau, with the popular resort of Lac de Salagou, Clermont L'Herault and the spa town of Lamalou les Bains.
The Lozère is the least populated department of France with dramatic countryside and a vast array of wild flora and fauna including bison and wolves. Châteaux and medieval villages abound along with such wonders as the Gorges du Tarn. Mende is the capital and Florac, another important centre. The Gard, reminiscent of Provence, is rich in Roman sites including the arena at Nimes and the Pont du Gard. On the coast are the resorts of Le Grau-du-Roi and Aigues-Mortes, the beginnings of the Camargue, whilst inland Uzes mirrors Aix in style. Gastronomic delights abound from Cassoulet to Aligot, from Brandade de Nimes to Tapenade. A cornucopia of fresh fruits and vegetables, wines and local dishes await to satisfy the most discerning palates.
Inland Occitainie boasts eight departments with a variety of very attractive architecture and beautiful landscapes, many of which have the impressive range of the snow-capped Pyrenees as a backdrop. The climate is one of long hot summers and predominantly mild winters. The rainfall is mainly affected by proximity to the mountains or the sea. The Gers, certainly, with its green lush scenery has a more Atlantic climate and the further east you go – the drier the terrain becomes. The departments nearest to the mountains, bordering respectively Spain or Andorra – namely the Ariège, Haute Garonne and Hautes Pyrénées, offer easy access to year round leisure pursuits, whether it be skiing, hiking or observing nature, with a wide selection of flora and fauna, especially wild birds, prevalent in the area. Lourdes, in the Hautes Pyrénées, is famous for its pilgrimages to the shrine of St. Bernadette. It is little surprise that a 'View of the Pyrenees' is frequently high on the agenda of requirements of applicants searching for a property in this glorious region of Southern France.
Toulouse, the largest city in Haute Garonne, is a vast buzzing cultural centre with a University, a wealth of restaurants, hotels and boutiques, an international airport and school and the TGV train. It is known for its ubiquitous 'pink brick' buildings as 'La Cité Rose'. To the East are the hills and vineyards of the Tarn (notably those of Gaillac) and the autoroute leading to Albi, the capital of the Tarn and a cathedral city which was the birthplace of Toulouse-Lautrec. Beyond is the Aveyron with its rugged landscape and more remote hamlets and villages. The north is green and hilly and as it approaches the south, it becomes increasingly arid, rocky and wild. The relatively new autoroute to the north of Toulouse has now put the Lot, and Cahors with its vineyards in particular, within one hour's drive of Toulouse. The Quercy area and indeed the Lot valley is a very popular and attractive part of France with its distinctive white stone houses, often topped with a pigeonnier and the majority with canal tiled roofs.
The Tarn et Garonne spans the Bordeaux-Toulouse autoroute and borders the Gers to the South. This area is particularly well placed for access to the Toulouse/Bordeaux autoroute, Blagnac airport just west of Toulouse and the International School which has become incredibly popular in a comparatively short time. The northern Gers has long been the haunt of Parisians as the journey by TGV to Agen makes this region eminently accessible for weekends. The Gers is primarily an agricultural department and the valleys are wide with little hill-top hamlets and villages perched on the ridges, benefiting from the views of the mountains. Both the coast and ski resorts are 'day trip' options, adding to the many plus points of this popular department. Overall, this region has a rich history going back many decades as the many cave paintings, fortified bastides and medieval routes to Compostella indicate and it still remains relatively unspoilt. Copyright: Sarah Francis
Departments in the Occitainie :-
Book a Hotel in Occitainie