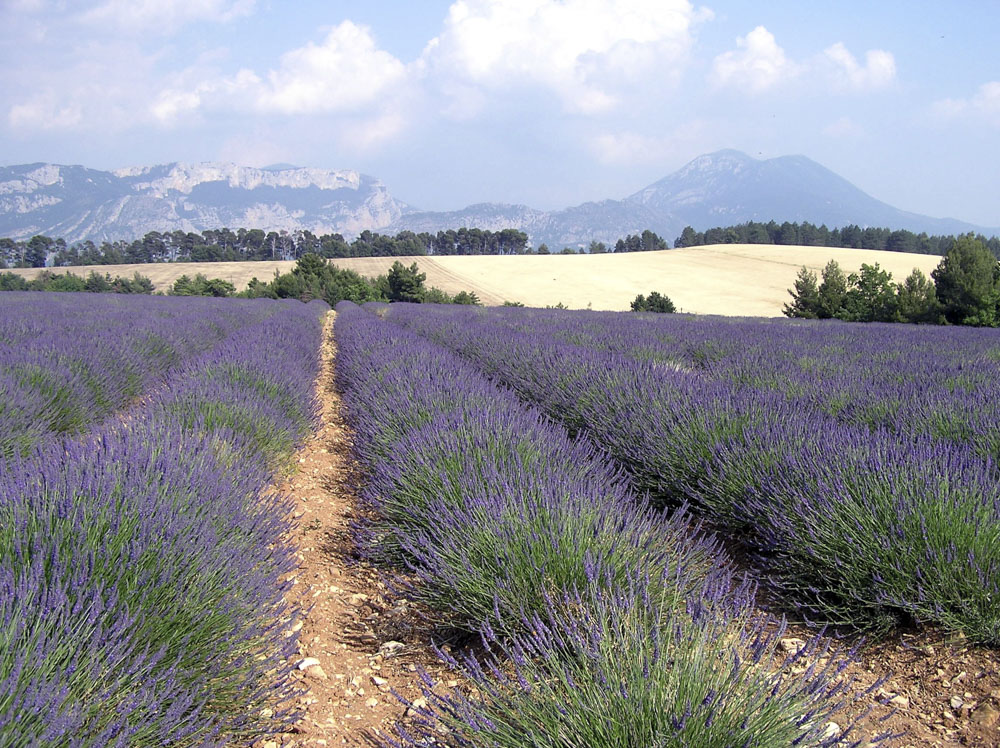 Lavender fields in the Var
Long appreciated by most of the world and, of course, the French, the six Provençal departments offer a diversity of varied terrains and attractions. The Hautes-Alpes, as its name implies, is an alpine haven for a myriad of rare birds and flowers. Carpeted with wild flowers in summer, in winter the snow capped peaks become a playground for winter sports. The towns of Gap, with its botanical conservatory, Briançon, the highest town in Europe, and Queyras with its medieval fort, should not be missed. Natural gorges, spectacular waterfalls, and the largest man-made lake in Europe at Serre-Ponçon, attract climbers, potholers, bikers, and fishermen alike. Sandwiched between coast and mountains, the Alpes-de-Hautes-Provence has some spectacular sites on Napoleon's Route, including Sisteron, Manosque, the spa town of Digne-les-Bains and Forcalquier with the Route de la Lavande and the Domitian Way. Castellane is the gateway to the dramatic Gorges du Verdon. With 11 ski resorts, many lakes, rivers and reservoirs, the department has much to offer.
The Bouches du Rhone, with the white horses of the Camargue, black bulls and countless beautiful pink flamingos is steeped in history. Avignon is as much visited for its TGV link as for its famed ancient bridge. The region has inspired many artists. Cézanne was the most famous son of Aix en Provence whilst Van Gogh and Gauguin lived together for a while in Arles. Roman remains, elegant bastides and stone mas with pretty painted shutters cast their spell on visitors from all over the world. Marseilles with its Old Port and international airport is the largest city of the region. The famous vineyards of the Vaucluse, the picture post card villages of the Luberon and the fields of lavender and herbs have eternal appeal. Such famous films as 'Manon des Sources' and 'Jean de Florette' were set here.
The Var combines the unspoilt tranquillity of the villages and towns of the Haut Var with the glitz of the famous coastal resorts of St. Raphael, St. Maxime and St. Tropez. Beyond lies the naval base of Toulon and the Isles d'Hyères. Most towns have colourful bustling markets and there is a wealth of wonderful restaurants hidden away in unexpected corners of the countryside. In the Alpes-Maritimes, the Cote d'Azur continues to draw vast numbers as much for the well known watering holes lining the coast from Villefranche to Cap Ferrat, Cap d'Antibes to Cannes, venue of the annual international film festival, as for the ease of access to Monte Carlo with its jet-set, the ski resort nearby of Isola 2000, and Nice airport. Provence conjures up many images. The colourful market squares, the dappled sunlight through the plane trees, the pale golden beaches and azure sea together with the wonderful aroma of lavender, olive oil, garlic and rosemary combine to delight the senses. Copyright: Sarah Francis
Departments in Provence Alpes Cote d'Azur :-
Book a Hotel in Provence Alpes Cote d'Azur
Weather in Provence Alpes Cote d'Azur