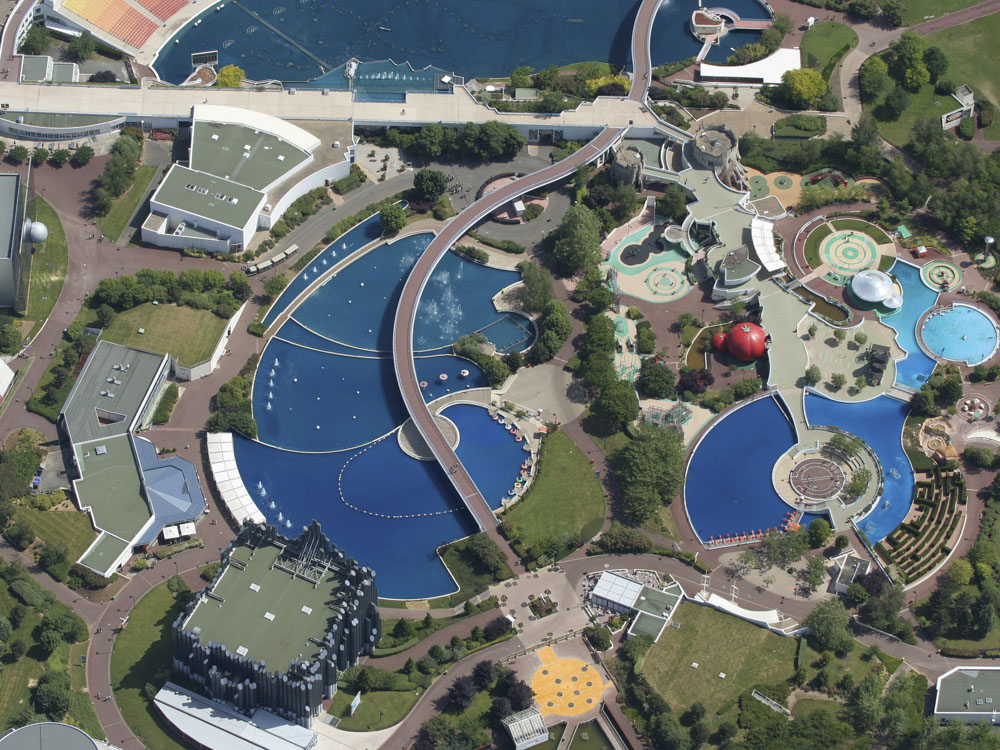 Image – An Aerial view of Futuroscope, Poitiers, Copyright Atout France/R-Cast.
The hilltop town of Poitiers, once the capital of the region, is a centre for Romanesque architecture, in particular churches. With plenty of cafés, a daily vibrant clothes and food market and a plethora of half-timbered houses and renaissance hotels, there are even a series of street markings in red, blue and yellow to lead you to the most important buildings. The town is steeped in history, the Battle of Vouille having been fought nearby in the year 507 and the 'Battle of Poitiers' in 1356 in which the English won their second great victory of the Hundred Years' War.
Towns in the Vienne
Chauvigny
Nearby is the town of Chauvigny, one of the best-known beauty spots in the area. There one can see the remains of five fortresses, once the property of the Bishops of Poitiers, overlooked by the bell tower of the Eglise St-Pierre, another Romanesque church. High above the Anglin Valley are the ruins of the fortress of Angles sur Anglin. They look down on the village, classed as one of the most beautiful villages in France. Here, too, are the famous carvings of the 'Roc Aux Sorciers'.
Roche-Posay
To the south on the banks of the River Gartempe is the superb 12th Century Abbey of St-Savin where a 13th century bridge still spans the river. At Chatellerault a 16th century bridge named after Henry IVth still crosses the River Vienne. The spa town of Roche-Posay where the Gartempe meets the Creuse, has a golf course, casino and race track. The town of Montmorillon, also on the Gartempe, has had its medieval town centre restored. Famously associated with the writing and publishing of books, it boasts a plethora of antique bookshops as well as calligraphers, illustrators and other artists from the ancient art of producing books.
Charroux
Nouaillé-Maupertuis has an amazing collection of abbey buildings where 'King John The Good' met his defeat at the hands of the Black Prince in the 12th Century. Meanwhile at Charroux, you will find one of the oldest Benedictine Abbeys in existence, set above the River Charente. Finally, in stark contrast to these architectural and historical sites and yet only 11 kms from Poitiers, is the 'state of the art' visual theme centre of Futuroscope. With a variety of attractions, the 'flying carpet' is reputed to be the best feature of the entire park.
| Title | Address | Description |
| --- | --- | --- |
| | 86000 Poitiers, France | |